SOB and I have been crossing items off of our Philly bucket list in the past few weeks in anticipation of our departure. Most of the things on there involve food and friends, but not all. Last weekend we visited the Barnes Foundation. (I've written about this place before, so I won't bore you about it again, but I will recommend checking out The Art of the Steal.) Then on Saturday I had dinner at Morimoto with my college girlfriends, where we consumed eight courses of amazing food, followed by a sleepover.
Some remnants of our meal
But on Monday, things really got crazy. SOB and I headed out to the
Standard Tap
, one of our favorite pour houses. SOB wasn't sure he wanted to go, because it's
beer week here in Philly
, and the crowds are unpredictable. But we lucked out, and we got our favorite spots at the bar.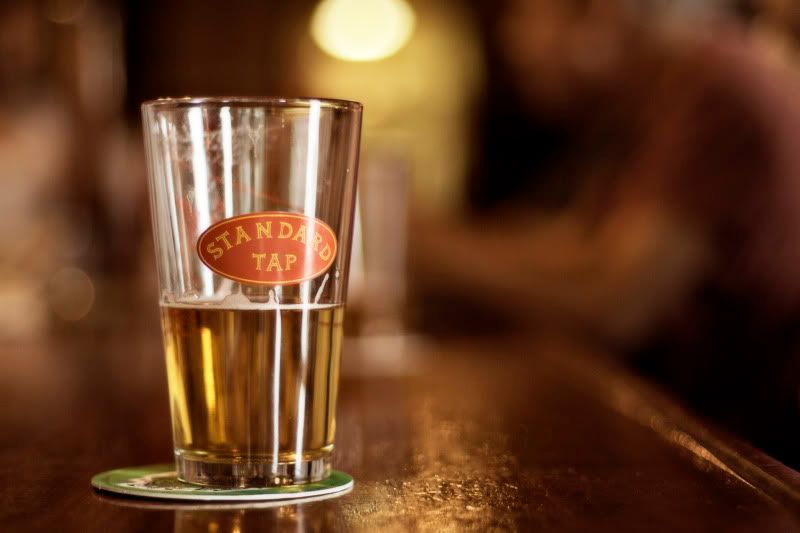 After we ordered our first round, we were just checking out the crowd when in walked Ben Franklin!
Well, not exactly Ben, but
The Colonial Brewer
. Which honestly? Was even better. He took SOB out to the brewing site of the first American Lager, which was just down the block, and they talked shop all night. He also pointed out this abandoned brewery, which has a lot of local history.
On the way home it was almost sunset. The light at dusk made for the perfect photo of the Philly skyline.
All in all, it was one of those perfect nights. I hope we have a few more before we leave.
Now excuse me while I go and find some tissues.