Dear Freddie-Buddy -
How do you like your new nickname? It was given to you by your sister Maggie, who was confused by the fact that I often call you Buddy, but everyone else calls you Freddie, so she combined the two. And now we all call you that, in our best Maggie voice, so it actually sounds more like Fweddie-Buddie. Cute, right? Just like you!
This month has been a fun one. You had your first holiday and attended your first wedding! And you are all smiles for your mama these days. My favorite game to play with you is the one where I lay you in the gymni, and then put my head right up in between all of the hanging toys. Your eyes wander all over the place, and when you see the toys you look interested, but when you see me you light up like a christmas tree. It's totally awesome.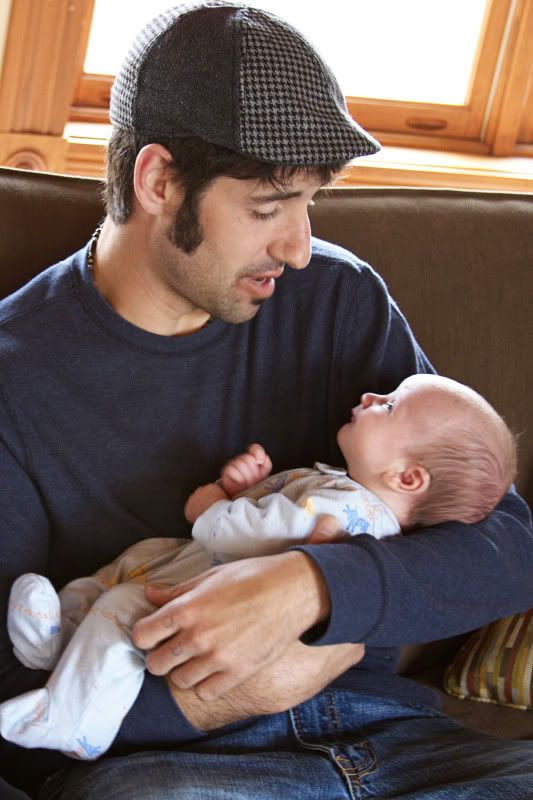 Your uncle Danny came all the way from Florida this month just to meet you. Although his other nephew (Sam) looks a little more like him, I don't think he holds it against you.
You are still my little bean, despite being 12 pounds and 6 ounces at your two month check up. Although my biceps are getting pretty ripped from carrying your car seat around. You still love to be swaddled at night, which puts you in the running for 'longest swaddle baby' against Maggie. You might win, though, because I've discovered dozens of new types of blankets thanks to the internets.
You are still waking a few times each night, although sometimes it's only once. It's funny how history becomes hazy with time, because I totally thought your sisters were sleeping through the night by two months, but when I went back and read
their two
month entries
, I saw that you are right on par with them. Thank god, because I was starting to think that maybe you'd be like Sammy in the sleep department, still waking 2+ times a night until you were nine months old. Please try and take after the girls, ok darling boy?
But as long as you keep smiling (and winking) at me, you can do pretty much anything you want. At least until you turn 16.
I love you so much little boy. I don't think I could even try to love you more.
Mama