Today I'm delving into it all and then saying goodbye, so skip it if you want to. I won't be offended.
I never thought I would be in this position. I'm an arrogant bitch, aren't I? I've been so cavalier about my pregnancies before, announcing them
only
hours
after I saw the two blue lines. The only reason I didn't blog about being
pregnant with Sam
right away was because I hadn't told my family yet, and even though they didn't read the blog then I didn't know that for sure. I really wanted to tell my parents face-to-face, so I kept mum about it here until they knew.
(BTW, did I ever tell you that story? It involved a lunch box and an ultrasound picture inside of a zip lock bag. One of my best orchestrated moments ever!)
So why didn't I jump right online and start blabbing last Monday when I first got a positive test? Because deep inside my heart of hearts I knew something wasn't right. I didn't tell my parents or friends until the next day when I got a second positive, but I still felt some kind of reservation. I told SOB and my mother, but the general consensus was that I was still reeling from the shock. And honestly? I was. Here I was, about to have four kids, the youngest only 15 months behind Maggie, as we're planning an interstate move. I probably couldn't even spell the work SHOCK last week.
But then Wednesday rolled around. I took another test that morning because I had forgotten to photograph the one from Tuesday, and while the second line was there it was maybe just a shade lighter than the second line on Tuesday's test. It was early, I told myself, and any line, no matter how dark or light equaled BABY. Besides, I have a stockpile of pregnancy tests so I'd just wait until next week when I was sure to get a clear and present POSITIVE to take the photo.
Thursday I called and scheduled my first OB appointment. Things were now moving into 'real' territory, and my early hesitation to shout the news from the rooftops was waning.
Friday morning I went to the Y and spread the word far and wide that Maggie was going to be a big sister. Then I came home and wrote about it
here
. That night as we laid in bed I thought ahead 35 weeks, imagining the moment when a sweet, slippery newborn would be placed on my chest and I would see my baby for the first time.
And that was the same though that flashed into my head at 4:40am when I saw the blood. That I was seeing my baby for the first time. The only time. Smaller and on a square of toilet paper instead of in my arms.
For the next two hours I wished and wished for it to stop. I stayed on my left side, and didn't go to Maggie when she cried around 5:30am because nursing stimulates uterine contractions. Every twenty minutes I would gingerly get out of bed and go to the bathroom with my breath caught in my throat. Finally it became clear that this was happening, and it wasn't going to stop. The rest of the house was starting to come alive. It was time to start dealing with things like waffles and coffee and clean underpants and vitamins. Thank god for that, because now I had something else to think about.
I told my parents, and they awesomely took on the awful task of telling the rest of my family. And my sister-in-law Allison did the same for SOB's side of the family. I spent the day trying to go about as normal, but occasionally I would be overcome with sadness and start weeping.
Through everything SOB was perfect. Perfect. It was as if he could read my mind. He knew when to leave me alone and he knew when to seek me out. He knew that I needed to go out and take
my cousin's engagement photos
. He knew I needed a night to myself on Sunday. He listened to me complain and said all of the right things at all of the right times. Somehow, this whole crummy experience has made me realize just how much I love the SOB.
Oh, and these little buggers.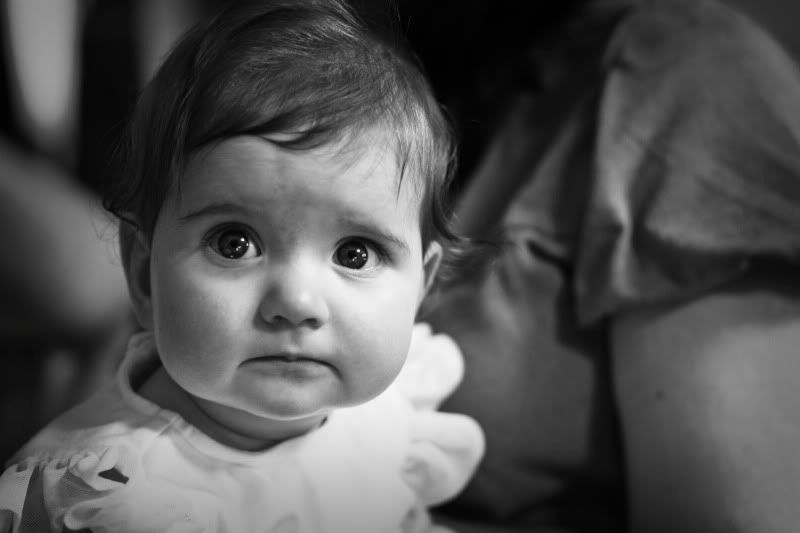 In the end I realized how lucky I am. This whole process has been relatively painless physically, because it was so early, and I've had the support of literally dozens of family members and friends. It's deepened my relationship with my husband, made me appreciate my beautiful babies more than I ever thought possible, and it cemented my desire to have more children.
I think I can check 'find the silver lining' off of my list of things to do today.